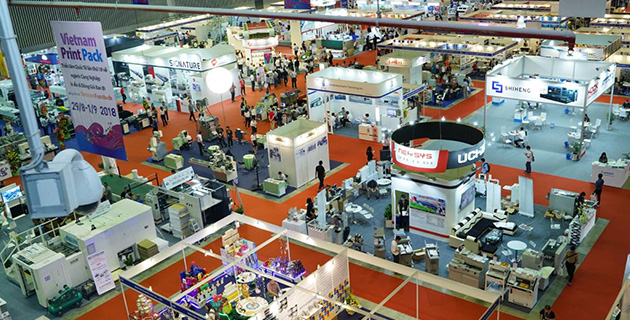 Inkmaker was hot in demand again recently at Ho Chi Minh City as it shone amongst 375 exhibitors, from 10 countries, at the 19th VietnamPrintPack. The international printing and packaging industry exhibition—Vietnam's leading trade show—this year welcomed over 15,000 visitors from 45 countries.
"It was a very good show for us. There was a lot of interest in automatic ink-dispensing systems and thanks to our partner agent, FSP, we caused quite a commotion when we showcased the 'PESA', one of popular Ink management systems for water-based products (also available for explosion-proof solvent-based products)—which resulted in being purchased, during the show, by a renowned Vitenamese-based printing company. I think we can safely say we will be here again next year." Explained Andrea Villa, Area Sales Manager of Inkmaker, S.E Asia.
Since 2001, in response to the dramatic growth in the region, VietnamPrintPack has surged as the recognised platform for making Vietnam more accessible to worldwide print and packaging businesses. This year, the event received strong support from international as well as local industrial associations.
For further enquiries on Inkmaker products in Vietnam, please contact Mr.Binh at: binh.ton@fsp-industry.com