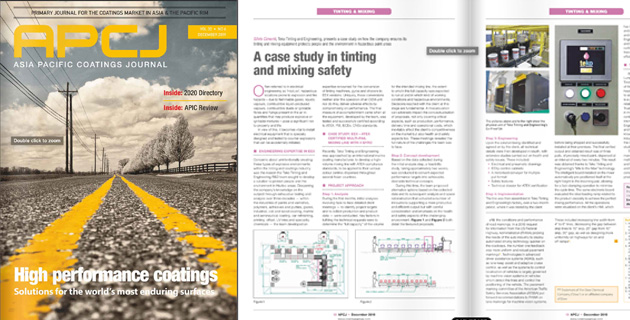 @Teko Tinting and Engineering, a member of the Inkmaker Group of companies, was recently approached by the prestigious Asia Pacific Coating Journal to write a case-study article for its magazine on how Teko ensures its tinting and mixing equipment protects people and the environment in hazardous paint areas: https://lnkd.in/fTUpuC9 .
The APCJ, as it is fondly referred to, is the only dedicated coatings publication that covers the ASEAN region, from India to Australia. The bi-monthly journal, which has been running for over 22 years, has an established reputation for informed, educational articles written by reputed industry leaders within the Asia Pacific region.
With a readership of over 28,000 key decision-makers across the SE Asia, the Pacific Rim, Australasia, and China, APCJ is one of the leading voices in the industry, providing paint, ink and adhesives manufacturers with information on new developments.
"We're honored to have been asked by APCJ to contribute to this prestigious journal, on the depths that the Inkmaker Group goes to meet stringent safety measures" Added Silvio Cimenti, Global Director of Branding and Marcom.