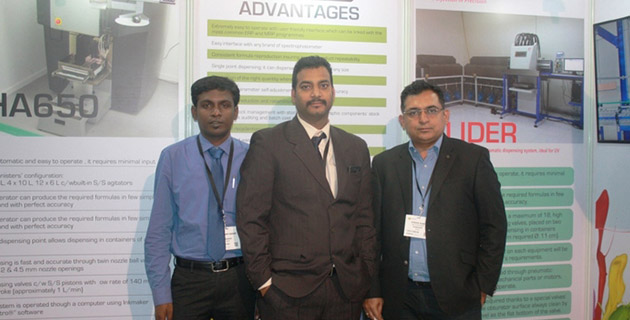 Italy-based Inkmaker, the manufacturer of printing ink dispensing system, is showcasing various ranges of its ink dispensing systems available for Indian market at Labelexpo India 2016.
Sashi Kumar Nair of Inkmaker India said, "We have solutions for printers who have consumptions of more than eight tonne printing inks. We recommend our automatic ink dispensing system to printers who consume at least 10 tonnes of printing inks per month."
Inkmaker, which has total 10 installations in India, manufactures the systems at a plant in Navi Mumbai.
Nair said that printing ink manufacturers are its direct customers and they recommend its products to printers. "We install our systems at a printing facility in coordination with ink manufacturers to ensure quality and long-term support," he said, adding, "Sometimes, we supply directly to printers as well."
Among the 10 installations the company has in India, two are for UV flexo and eight are for solvent-based inks.
Inkmaker products are CE and ATEX, and ISO 9001 Quality System certified and TUV patent for welders of stainless steel piping lines construction.
Advantages of using Inkmaker automatic ink dispensing system includes few unlimited colour range, instant colour reproduction, absolute accuracy up to one gram, production of light quantity, major stock reduction, improved stock-management, optimised recycle-management, elimination of wastage, management of return ink and increased free space in the factory are some of key benefits of automatic ink dispensers.