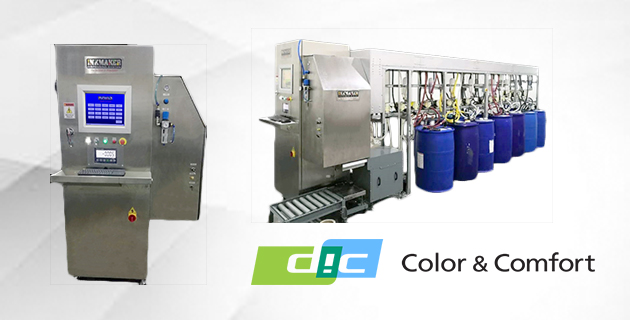 Melbourne, 28 August, 2019: Inkmaker Worldwide today signed an agreement with DIC Australia, cementing a partnership through the continued use of the renowned Accubatch Dispenser, on all its currently installed units and on all new units for the corrugated market. Inkmaker—a global leader in the ink-dispensing world—was selected as DIC's preferred regional partner, to support all installations of the ink-dispensing systems throughout Australia, New Zealand and Asia-wide, due to its high-level of technology, vast network and unique approach.
The agreement will substantially benefit all customers, running the Accubatch ink dispensing system, due to the full support of Inkmaker's technologically advanced ink-management system software, 'Maestro', during all retrofits. This will include water-based pail system Model 2020MA and DIC's unique vat system Model 2020ME, where larger quantities of ink up to 200 kg can be dispensed in a single action. The Accubatch systems are elegant solutions that enable printers to create exactly the amount of ink required and are extremely robust and reliable.
Mr Richard Kemp, Chief Executive of DIC Australia Pty Limited, commented "…having known Inkmaker, for a number of years, we are very pleased with the decision to join forces over Accubatch and look forward to future collaborations, of which undoubtably there will be many."
This is a significant achievement, for Inkmaker Worldwide, that is aligned with our plans of expansion, said Mr. Roberto Guerra, Managing Director of Inkmaker Asia.

About DIC Australia Pty Limited
Color & Comfort— DIC is a fine chemicals company with a top share in printing inks, organic pigments and PPS compounds in the global market. Established in 1908 as a manufacturer of printing inks, DIC has capitalised on its capabilities in organic pigments and synthetic resins to build a broad portfolio to markets such as automobiles, electronics, foods and housing. DIC operates in more than 60 countries and territories around the world today.