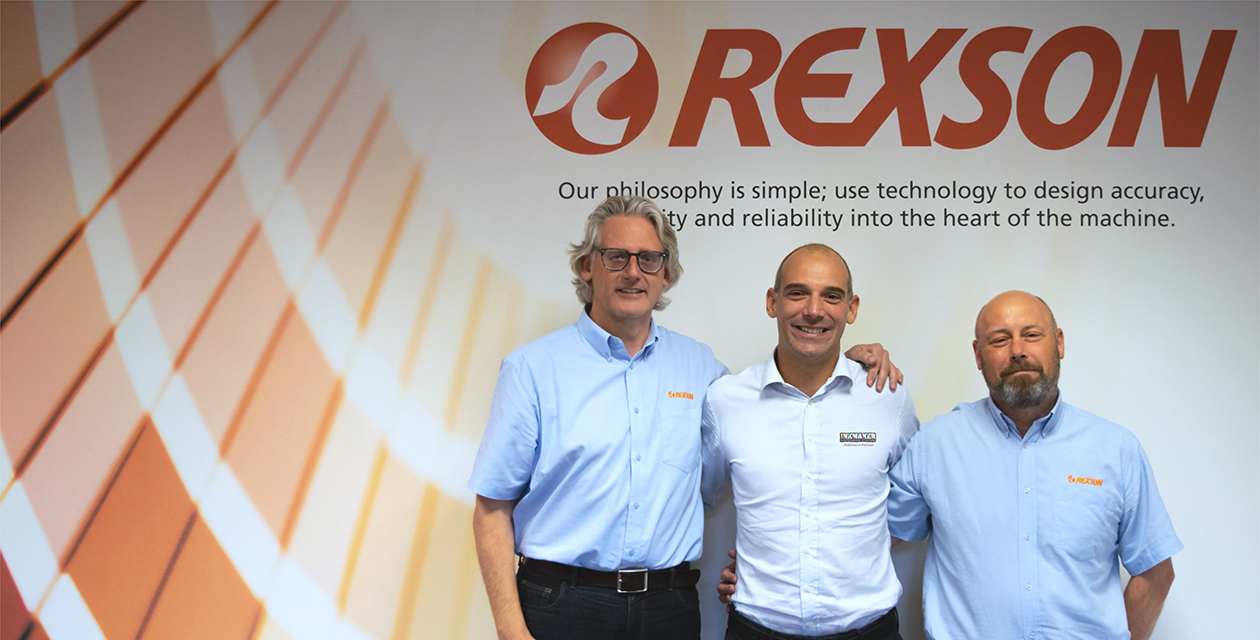 Turin, 14 October, 2019. Inkmaker srl, announces the acquisition of the businesses of Rexson Systems Limited and its subsidiary, Vale-Tech Limited. The acquisition will see the two businesses join the fast-expanding Italian-based global enterprise and is an important step in achieving Inkmaker Worldwide's global strategy of offering a total supply chain within the industries in which it operates.
The Rexson Systems business—an ISO 9001:2015 fully compliant leading global manufacturer of colour dispensing systems with offices in Europe, North America, Latin America and the Netherlands— includes the Rexson software designed 'in house' and products developed by the brand's highly-experienced 3D-design and modelling-package designers. Equally as advantageous to Inkmaker is the accumulation of over 40 years of Rexson's experience in fluid dispensing technology that through state-of-the-art control and design techniques has resulted in notable systems such as the ColorPoint IP water- based and UV ink dispensers, the revolutionary ColorPointTM technology for ink, paint and chemical dispensing and the popular ColorWeighTM 40 and 78 paint and chemical dispensing systems.
Vale-Tech, which was acquired by Rexson in August 2016, principally supplies dispensing equipment in the offset, paste and UV liquid and narrow web sectors, with cost-effective and compact equipment. The Vale-Tech range of systems also perfectly complements the liquid ink, paint and chemical systems in which Inkmaker Worldwide is already an established leader.
"On behalf of the board, we are very pleased with the addition of Rexson and Vale-Tech to our growing Inkmaker family. The added strength of these two businesses' machinery, technology and know-how with our own will make us a formidable force. As a result of the acquisition Inkmaker will have a broader portfolio of offerings, with a greater sales and service network in strategic regions around the world—further strengthening our position as a market leader" Explained Christophe Rizzo, CEO of Inkmaker Worldwide.
"This is a momentous step for both Rexson and Vale-Tech to draw on Inkmaker's world- leading experience and infrastructure in further boosting our position in our existing markets by combining our expertise. This sale is a key stepping stone in a global strategic plan; and with Inkmaker's leadership we will further enhance the Rexson and Vale- Tech's brands as part of a family of brands set to expand our global presence and market share" Added Martin Black, Director and co-owner of Rexson.
Martin—who will continue to play an active role in sales along with Bart Wentges and Nick Scott of Vale-Tech—will now be serving a combination of Inkmaker, Rexson and Vale-Tech customers in the United Kingdom, USA and Europe.
Rexson will continue its focus on colour dispensing systems for the ink, paint and coatings industry as well as for the cosmetics, food, oils, pharmaceuticals and speciality chemicals from its base in UK, and will continue to support existing Rexson customers.
Vale-Tech will continue its focus on UV liquid inks and UV and Conventional Offset Inks, also from its base in UK and will continue to support existing customers.
Rexson and Vale-Tech will be able to benefit from the support available from the Inkmaker Worldwide global business including Inkmaker's offices in Europe, North America, South America, Asia and Australasia, as well as the combined global network of partners who offer sales and support to their local clients.
---
EDITOR NOTES
Inkmaker Worldwide
Silvio Cimenti – Global Director of Branding and Marcom
scimenti@inkmaker.com
Inkmaker.com
---

About Inkmaker Worldwide
Formed in Italy in 1987, Inkmaker is a privately owned global manufacturer of integrated dispensing systems that improve efficiency by automating the process of ink, paint and chemical dispensing and mixing. Inkmaker's proprietary software and systems, manufactured in three continents, guarantee highly accurate colours consistently, precisely and instantly. Inkmaker operates with its own staff and offices in over 15 countries.
---

About Rexson Systems Limited
Established in 1954, Rexson is a privately owned and independent British manufacturer of automated dispensers that are widely used in the ink, paint and coatings industry, as well as the industries of cosmetics, food, oils, pharmaceuticals and speciality chemicals. Materials can be liquid, gels or paste, hazardous, caustic, flammable or have thixotropic rheology. Rexson has offices in Europe, North America, Latin America and The Netherlands and a global network of regional sales and support partners
rexson.co.uk
---

About Vale-Tech Systems Limited
Established in 1985 Vale-Tech, previously a subsidiary of Rexon, is a British manufacturer of ink dispensing systems for the worldwide printing industry. Vale- Tech employs a team of software and hardware engineers dedicated to the design and build of innovative products incorporating the latest technology focused on paste ink and narrow web ink dispensing systems. Vale-Tech has created a network of loyal customers via global offices and support partners.
vale-tech.co.uk